Discover more from Everyday Adventures
Learning from living life
Byvägen 7, Nyland, Sweden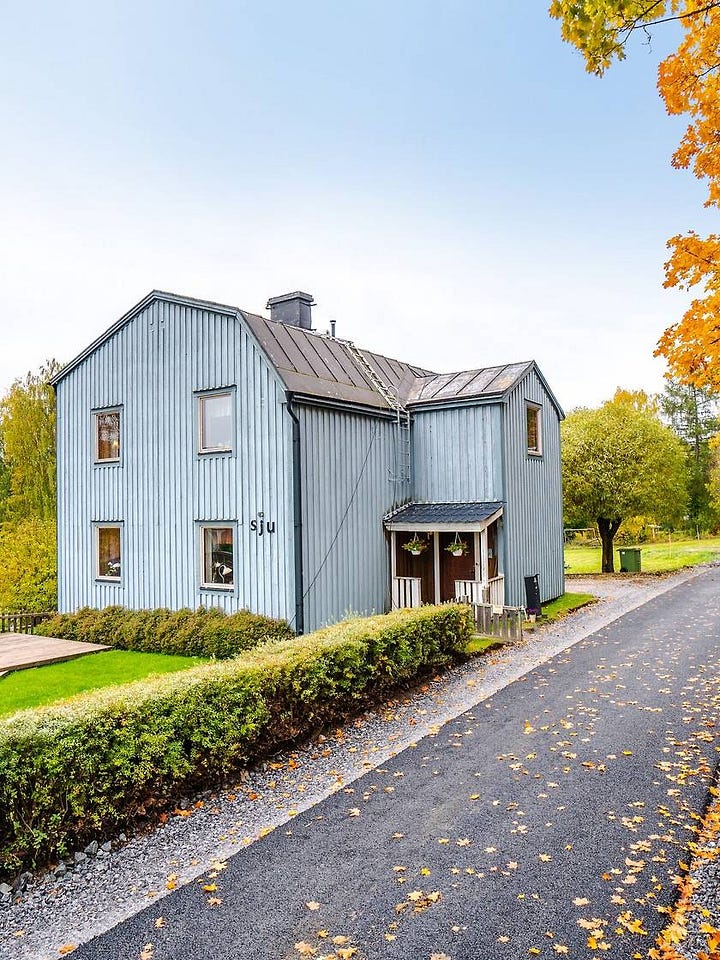 In November 2022 I decided to buy a house in Sweden, in a place I haven't been to before, not knowing anything about the true building quality or about that area of Sweden in general.
Sometimes I run into people who are really interested in this project, so I thought it's finally time to write a small summary of the why, what, and how.
Why
In short: climate change.
The 2021 IPCC report conveyed a clear picture: humanity missed the 1.5C warming goal, and we're well on track to missing all of the other goals.
At the time of my exploring this topic in more depth, I was in sweltering Greece, with regular wildfires (at least once a month), in the immediate surroundings of Athens.
Climate change felt very real and immediate.
It was also extremely depressing.
I identified three possible personal reactions to my new awareness of the situation:
Ignore everything, try to live a decent life, and see what's coming

Embrace hedonism, and live like there's no tomorrow,

Brace myself for impact.
I chose option three, because after becoming aware of a problem you also become responsible for reacting to it (ruling out #1), and I've never seen hedonism not devolve into a spiral of self-destruction (not in line with my values - ruling out #2).
So how do you brace yourself for impact?
What
I didn't want to become a full-on Doomsday Prepper, so essentially I just wanted to hedge my bets: if we don't meet any of the climate goals, I'd like to live somewhere where the temperatures are still between 20 and 30 degrees Celsius in summer, there's enough freshwater available and generally, society roughly looks like it did in the late 90s/early 2000's.
On one of my previous depressive deep dives into the internet, I found a paper ranking different countries according to their likelihood of preserving complex human society.
Given that I wanted to stay in Europe and not set up my backup base in another country with a long shared border with Russia, the list of countries for a second base was pretty short: 🇳🇴 Norway, and 🇸🇪 Sweden.
After visiting Norway in 2022, I left with the feeling that culturally the country isn't ready for any kind of large-scale crisis, so I settled on Sweden.
My requirements for a backup base were:
far away from large population centers,

geographically located in central Sweden or further up North,

good rail/air connections,

enough land to grow food for 4 people, year-round assuming a 2000kcal per-day diet per person.
Sounds a bit extreme to some people, maybe it is. But since this is essentially a long-term insurance project, I'd rather like to err on the safe side.
My house is located in central Sweden, on the North-South axis:
How
With the basic framework in place, I started searching for properties in Sweden exclusively on https://hemnet.se, because that appeared to be the largest and most popular website for real estate transactions.
Since there was no easy way to secure a loan, I had to buy this backup base purely with savings, so I limited my search to properties costing 500k SEK or less (roughly 45k EUR).
Here's a preconfigured search link.
For example, at the time of writing this (23rd of July 2023), within just 5 minutes of searching you can find this gem: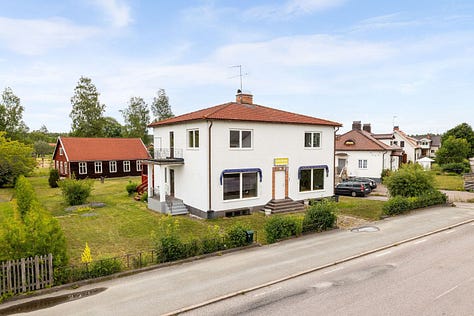 It's located in the south of Sweden:
And it only costs 41k EUR.
Not bad!
So let's say you found a property you like.
What's next?
You contact the agent,

You agree on a time to visit,

You optionally place an offer,

You inspect the property,

You adjust your offer / announce it's your final offer,

You meet with the seller at the real estate agent's office

All of you sign the selling contract,

You transfer money to the agent,

The agent registers the change of ownership with the land registry

Done, the house is yours!
All real estate transactions are actually auctions in Sweden and the real estate agent essentially also acts as a notary.
After you bought the house
There were a few things that caught me by surprise after the purchase.
Surprise bills
First, the change of ownership costs money (shouldn't be surprising, but I didn't think about it!). In my case, it was about 100 EUR per 1000 sqm of land that changed hands.
Second, invoices take a while to reach you. I received my first utility bill from the municipality 3 months after I bought the house. Luckily it wasn't very much (about 300 EUR for three months of garbage removal, wastewater, fresh water, etc), but in the first few months, it did feel a lot like I was getting a surprise invoice every month.
Becoming a taxpayer (not tax resident!)
Finally, most systems in Sweden require you to have an ID number. These come in two flavors:
a coordination number (samordningsnummer) is essentially just a tax ID, allowing to pay taxes in the country and making you a part of the system,

a personal number (personnummer), which is for tax-paying residents of Sweden, i.e. if you actually move to and live in your house, you'd get a personnummer.
Since I don't want to live in the house for the time being, I went to Skatteverket (the tax office) in Kramfors and applied for a samordningsnummer. After a few weeks I received it via paper mail to the house in Sweden and I had to follow up via phone to actually get the number without more paper mail being involved.
Opening a bank account
With that number, you can now open a bank account in Sweden. The only bank I know of that allows non-residents to open a bank account without needing to be in Sweden is SEB.
You can open your account here: https://seb.se/dsc/onboarding-private-external-nis-ui/#/personal-information
Once you have a bank account, you can register for BankID, which works as the general identity provider, i.e. most public systems allow you to log in with BankID.
Q&A
A list of commonly asked questions and answers about the whole process can be found here:
The Future
Since the world as we know it isn't ending just now, and hopefully upheavals of the negative kind are still far away in the future, one question remains:
What do you do with the house?
In my case, I decided to slowly fix it up, and turn it into a nice space for a retreat where you can focus on what is important in life without the usual distractions of your regular surroundings.
Nature is close by, but you have enough civilization around you to support a comfortable lifestyle.
Send me a message if you would like to stay at my house for free!
Eventually, I expect the house to carry itself financially, while still being available as a getaway when I or my friends want to use it.